Sandbelt Invitational Day 2
Plenty of lessons are learned as wily vets and fresh faces take on a fiery Royal Melbourne
By Alan Shipnuck
Imagine playing for the first time maybe the greatest golf course in the world, Royal Melbourne, and your tour guides are an extravagantly talented 26-year-old ranked 41st in the world (Lucas Herbert) and a preeminent student of golf course architecture who knows every blade of grass at Alister Mackenzie's masterwork (Geoff Ogilvy). Belinda Ji, a 19-year-old amateur from Sydney, lived that dream during the second round of the Sandbelt Invitational. Bringing together Australia's talented up-and-comers to be mentored by the country's established pros is one of the animating purposes behind this inspired new tournament. Ji had the best possible teachers across 18 holes in the ultimate classroom, and afterward she was beaming. "It was one of the most incredible experiences," she said. "I really learned so much just by watching them play and they were super nice, so I really enjoyed it."
"She was asking questions of us all day," Ogilvy said, "which is the idea of the week."
Herbert, the reigning champ of the Irish Open and the PGA Tour's Bermuda Championship, also felt a little starstruck playing alongside one of his idols; at the 2011 Presidents Cup at Royal Melbourne he served as the standard-bearer in Ogilvy's singles match. This time the student was the teacher as Herbert (above) shot 69, the second-lowest round of the day and seven shots better than Ogilvy. Still, Herbert carefully studied the way the 2006 U.S. Open champion navigated the wickedly sloped green complexes at the course the Aussies simply call Royal. "A lot of my pitching stuff I envision the way Geoff hits it, just with how soft and relaxed he is through impact," Herbert said after the round. "I'll almost envision the way he hits chips sometimes when I'm out on the course when I need those shots."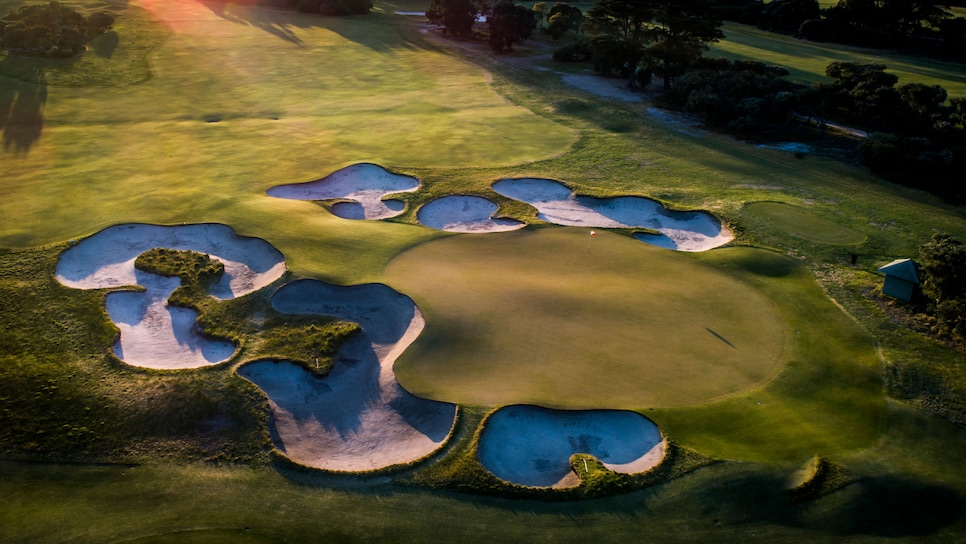 Herbert is in 11th place at 5 over, nine shots back of Brady Watt, who entered the week thinking the Invitational might be a "Christmas hit-and-giggle"… and then he saw the tipped-out tees, the baked greens and the Sunday pins. "It's a grind," Watt said, "but any day at Royal is a good day." Three-time European Tour winner Marcus Fraser is in second place, two shots back at 2 under.
Grace Kim, a decorated amateur who recently turned pro, is the top woman on the leaderboard, in a tie for fourth at even par. All of them are hoping to become a latter-day Horton Smith, winning the inaugural edition of a tournament that is sure to grow in prestige. "It'd be pretty cool," Kim said of the possibility of being the first name on the trophy. "I reckon, it'd be a moment to cherish. She has enjoyed her own Aussie-inflected mentorship through the Karrie Webb Scholarship, in which the Hall of Famer brings talented young players from her homeland over to the U.S. to play and practice and talk about life and golf.
This kind of giving back is what the Sandbelt Invitational is all about. Ji didn't play her best at Royal, posting a 79, but her day ended with a pep talk from her two celebrated playing partners. "The LPGA is not this hard—they don't play stuff like this," Herbert said.
With a snort, Ogilvy corrected him: "The PGA Tour is not this hard."